Family is the most important unit to an individual so why not incorporate socializing with your family into moving for your health.  Working out together as a family unit will help everyone reach their health and fitness goals while bringing the family closer together and opening up the lines of communication.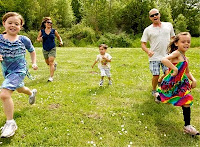 Here are some ideas to get your family up, moving, and having fun while coming closer together:
Take a Walk – Find out where the local parks or trails are in your neighborhood and take a stroll with the family.  If the weather is poor check out your local mall.  Malls are usually pretty big and you can get a decent walk in while window shopping with the family.
Video Games – You know your kids love them, but why not try physical participation video games.  The Nintendo Wii offers games such as Tennis, Bowling, Baseball, Skateboarding, Skiing, Snowboarding and more.  These games are a lot of fun and you will get you moving.
Bike Ride – Bike riding as a family is a fun a great way to keep in shape. Take a ride around your neighborhood or find out where your local bike trails are and ride there.
Take the kids to the playground – Want to strengthen those muscles?  Get to the playground.  Your kids can swing from the monkey bars and climb up stairs and slides, but don't just sit and watch get involved.  Running around with your children is a great workout.
Head to the Zoo – If you want to get a lot of walking done the Zoo is a great place to do it, plus your kids will have a lot of fun while they are there.
Take a Class Together – Why not take a dance class together?  Not into dancing try martial arts as a family or a yoga class.
Plant a Garden – Whether you choose fruits or vegetables or just some pretty flowers, get the kids involved in a gardening project. They'll get some brisk exercise digging, planting, and weeding. Then the whole family can enjoy the fruits of their labor with fresh produce and cut flowers.
 Go Camping – Take the family away on a weekend camping trip. You can enjoy canoeing, rafting, hiking, biking, Frisbee, volleyball and many other activities at most camp sites. As long as you enjoy the great outdoors camping is a great way to enjoy various activities.
Just remember, whatever activity you decide to engage in as a family, the most important thing is to have fun!
Category: Get Moving