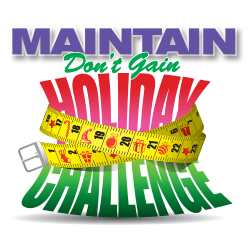 The holiday season to eat, drink, and be merry is upon us but choosing to indulge can bring on excess weight and increased health risk.  Company wellness initiatives offer health risk management and can reduce employees' healthcare costs.  Positive Promotions has developed an inexpensive but fun, educational, and comprehensive wellness program to encourage and support employees to continue healthy habits and promote weight maintenance throughout the holiday season with their Maintain Don't Gain Holiday Challenge.
The Maintain Don't Gain Holiday Challenge is a fun and effective way to hold employees accountable to continue healthy habits from Thanksgiving through the New Year by offering tools, educational material, and motivational incentives for them to strive to maintain their pre-holiday weight.  Positive Promotions has laid out a step by step program for Human Resource offices to utilize in order to maximize employee health.  Statistics show that over one-third of U.S. adults are overweight or obese.  Employees in poor health are not only putting themselves in danger of ailment or disease but in effect, their poor health can be costly for your company in terms of healthcare costs and work productivity.
Starting before Thanksgiving spread the word of a holiday weight challenge throughout the office.  Remind them this holiday season "only the turkey should be stuffed" at a kick-off meeting.  Providing employees with inexpensive tools like an Ear Buds and Pedometer gifts set and an Activity and Food Tracker will set them on the right track to achieve optimum health.
At the start of the challenge, lay out the guidelines for employees.  Determine whether there will be only an initial and final weigh in or if it will be a weekly or biweekly occurrence.  The more often employees are required to weigh in, the better able they are to track their progress and modify their habits if necessary.  By keeping the scale in the office, employees are accountable to keep accurate records of maintenance and weight loss.
Throughout the challenge provide employees with educational tools to help them meet their goals and succeed at The Maintain Don't Gain Holiday Challenge.  Hanging a laminated poster listing "10 Ways to Avoid Putting on Holiday Pounds" around the office serves as gentle reminder of the challenge while recommending healthful tips for victory over the abundance of food they will be tempted by throughout the season.
In general, people like working towards a reward so Positive Promotions has great gifts items such as water bottles, lunch bags, and insulated tumblers for Human Resources to present to employees that challenge themselves and meets their health goals.  Companies can choose to make The Maintain Don't Gain Holiday Challenge a competition within the office. Whether between individuals or teams made up of departments, a little friendly competition can offer an extra push of motivation.  Reward the winning individual or team with a Maintain Don't Gain duffel bag and/or a gym membership to help they keep up their efforts towards maintaining good health.
The Maintain Don't Gain Holiday Challenge is a great addition to any already existing employee wellness programs and if your company doesn't already have a program established, it is the perfect way to get started.  Products ranging from as low as $1.25 offer a cost effective way to remind employees that their health matters.
Category: Workplace Wellness