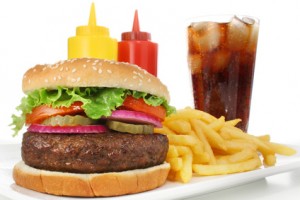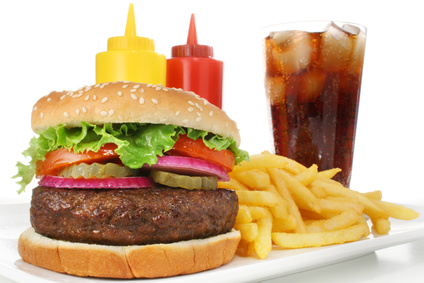 We all know fast food is not always the most nutritious choice.  But sometimes, it's a necessary evil when people are on the go and too busy to brown-bag it.  While that Big Mac and supersized fries may taste good, it will cost over 1,000 calories and over 50 grams of fat!  Those are some tough facts to swallow.  Believe it or not though, it is possible to go into a fast food restaurant and not leave regretful of your choice meal and feeling sluggish enough to lose focus.  Poor food choices will drain you but nutritious choices will give you the boost of energy that food is intended to do.
In order to make good food choices, one must be informed.  Here are 14 ways to indulge in fast food and not wreak havoc on good nutrition:
Read the nutritional information for food you are considering; reference pocket guides that highlight the nutrition values of menu items.
Choose the smallest size items available or split the meal with a friend.
Order sandwiches without mayonnaise or other creamy dressings.
Stay away from items labeled as batter-dipped, breaded, or crispy; look for grilled.
Order taco salads without the crunchy shell
Pair up steamed brown rice with Asian entrees instead of selecting fried rice.
Pick lower-far salad dressings. Even then, be careful how much you use.
Replace white bread with whole-wheat for your sub sandwich.
Select thin-crust pizza and ask for lots of veggies on top.
Avoid meaty breakfast burritos; choose an egg on an English muffin instead.
Have water in place of soda with your meal.
Don't add salt to fast food, which is already high in sodium.
Remove the skin from chicken.
Eat slowly and chew your food carefully so your body has time to let you know when it's full.
Category: Nutrition